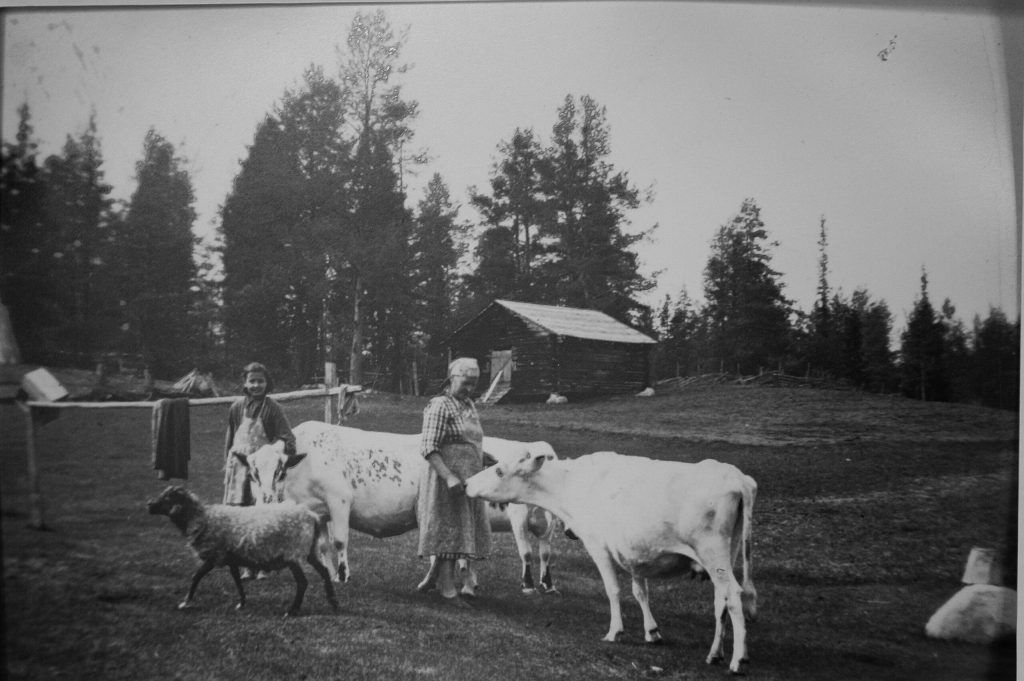 On the rampart of Årrenjarka, the seventh generation call it their home, but relics speak of inhabitants calling this their home during thousands of years. There are relics dated all the way back to the bronze age, possibly even older. Why did they decide to call this place their home? We understand why. The peninsula is an excellent place to live on, surrounded by Saggat's water, plentiful of fish and mountains full with game. Årrenjarka, translated from "Lulesamiska" means "The Peninsula of Squirrels". Saggat's mighty lake is framed by Kikkjokk Mountains and Kassavare that paints a dramatic scenery. Årrenjarka is also the name on the settlement that was founded the year 1811. Here the family Mannberg have ran agriculture at the foot of the Lapland mountains since the 1820's. The fertile earth on the peninsula as well as the lush fields of the Kvikkjokk delta within a short distance, made it easy for the Mannberg's to call this place their own. For over two hundred years the Mannberg's have built, fished, hunted, hearding cattle and lived on what the valley have offered.
During the spring of 1969 the last of the cattle exited Årrenjarka, and instead tourism became the main source of income. There are yet fields and storage sheds that stand as a reminder of times of old. Today the fifth generation Mannberg carry on the legacy in Årrenjarka and continiously improve the destination with culinary sensations, premium lodges, excursions in the Lapland mountains and create new experiences to our guests.
Årrenjarka isn't some backwater along the way. The Mountain Village and lodges is situated along the ancient road towards the mountain ranges and towards Norway. Here Sapmi people moved with their reindeer heards. Since the days of Linné, scientists have travelled. Kings, settlers, quarry bailifs, priests and travellers from all parts of the world. And they all passed through Årrenjarka. The habit of providing shelter goes way back in history. We always look forward new encounters, and we look forward to meet you!
Welcome, to Årrenjarka Mountain Village
Sincerely Gun & Lasse with staff!